Saints families, a venerable East Lake tradition that unites students and teachers across the school, has returned for the 2021-2022 school year. The surprise first session of the year took place on November 17th. Each of the students, teachers and staff members are assigned to a family named for a particular saint whose life and virtues they will learn and seek to emulate throughout their time at East Lake.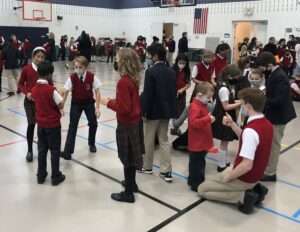 Ms. Slingerland, who is leading the program this year says that, "the saint families are the heart and soul of East Lake because students from every grade from PreK through 8th are grouped together for team building activities. This family doesn't change throughout the entirety of their East Lake experience. Few schools can boast of the bond these families create. They see each other grow up and become the role models they looked up to when they were young." The saints families program not only builds a sense of community and belonging among the students and staff, it also encourages each person to develop a lifelong relationship with their particular saint. Wherever life may take them, they know they can always ask that saint to intercede for them.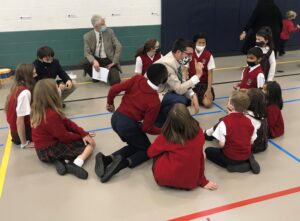 The saints families are:
• St. Maximilian Kolbe
• St. Anthony of Padua
• St. Mother Teresa
• St. Monica
• St. Daniel
• St. John Paul II
• St. Joseph
• St. Jerome
• St. Michael
• St. Patrick
May we all continue to pray for one another and ask for the help of the saints as we strive to become saints ourselves. Semper Altius!