East Lake's 6th grade students turned a recent writing assignment into a fun-filled event for the whole school. The 6th grade writing curriculum includes a business proposal letter, and as is often the case, many of this year's students wrote to Mrs. Echavez with various suggestions and requests. While some of the proposals were, shall we say, far-fetched, such as the request to build a water park at East Lake, one enterprising 6th grader, Marc Robert Lindemann, was able to turn his idea into reality.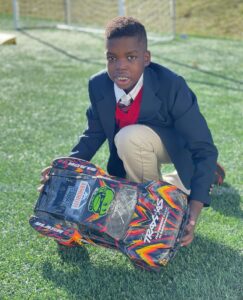 Marc Robert sold Mrs. Echavez on his proposal and, with the help of his classmates, successfully held the first-ever remote-control car Grand Prix on the new soccer field. Several students and one young-at-heart teacher competed while the rest of the school cheered them on.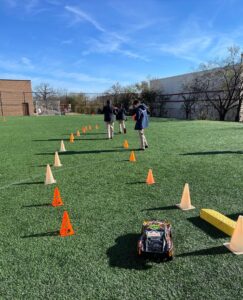 The races were a smashing success, often literally, and a great time was had by all, though the adults in attendance did breath a sigh of relief at the realization that it will be at least a few years before any of these students are driving for real!